How To Know If Building A Deck Is Right For Me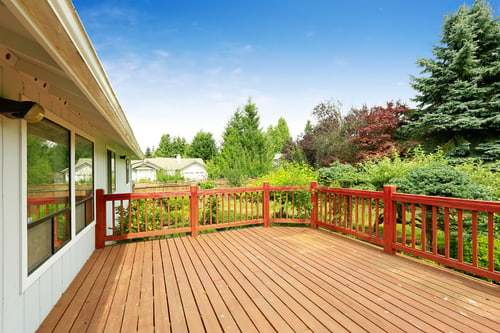 Hiring a deck builder is a great idea if you'd like to increase the square footage of your house and give yourself a comfortable outdoor living area. But how do you know if you should do it, to begin with?
In most cases, adding a deck to your house is a great investment, both in your house's appraisal value and in your quality of life. Giving yourself a space to unwind and breathe in the fresh air or soak in that precious vitamin D is a great reason to add a deck. In addition, if you are an entertainer who likes to host parties or if you have children or grandchildren, hiring a deck builder is a surefire way to give you more opportunities to form memories.
What Kinds Of Things Can A Deck Builder Do?
When you think of a deck, you might think of the standard wooden porch with little lawn chairs or a table with an umbrella. Or maybe you think of a wrap-around enclosed porch with planters scattered throughout.
However you envision a deck for your house, we at Timbrecon Renovations can do that or so much more. For instance, we could build a deck around your pool or hot tub, we could add a stone section for a fire pit, or we could even create a sunroom for you by adding windows to your already existing deck. Whatever you can dream up, a skilled deck builder can do.
How Much Value Will A Deck Bring My House?
Investing in a deck comes down to if you feel the time spent on building it is worth it. When deciding, take into consideration the return on investment, or the ROI. Several sources cite that the ROI for a patio or deck built by a skilled remodeling contractor can give you up to an 80% ROI. This means that for every $1000 you spend on the deck builder, $800 is added to your house's value.
This number can change depending on the material you use, though. For instance, using cheap materials like composite can lower that ROI by 20%, and in that case, building a deck may not be worth it if you aren't using it and were just building it to improve your house's value.
To see if adding a deck will be worth it for your circumstances, give Timbrecon Renovations a call and schedule a free quote today.
Give Your Trusted Wilmington Remodeling Contractor A Call Today!