Basement Finishing: From Upgraded Storage To Man Caves, We Do It All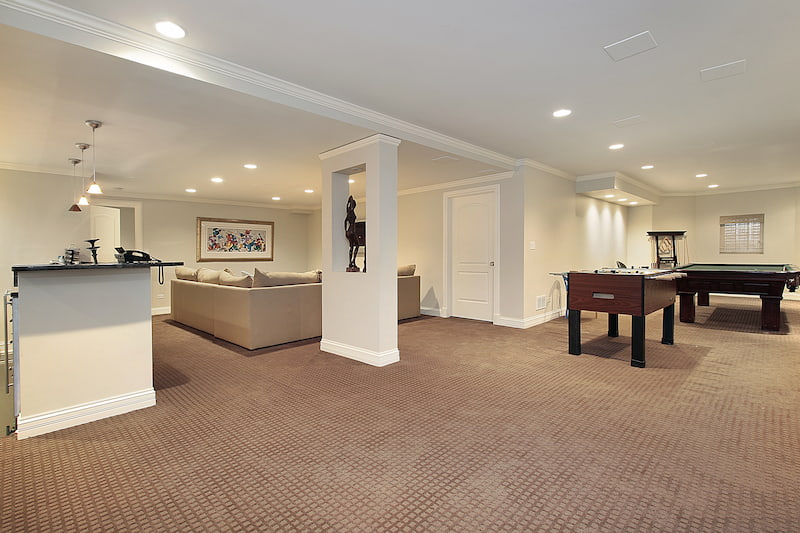 If your Wilmington home has an unused or underused basement, it may be time to look into basement finishing.
Basement finishing can be an easy way to increase your property value and usable floor space without adding an addition or another floor. Most basements are left as they are when homeowners move in. They are usually dark, unwelcoming, and possibly a bit scary. It's a shame when a basement has this type of atmosphere because it is a large area of space that families and friends could use for activities if the basement was finished.
That's where we come in at Timbrecon Renovations. Our basement finishing services are sure to turn your dark and grubby basement into a warm and hospitable living space. Whether you want additional storage, a man cave, a playroom for children, or even an in-house movie theater, our basement finishing service is perfect for homeowners who want to use their basements more.
Remodeling Basements
At Timbrecon Renovations, remodeling basements is a passion of ours. We are always happy to provide basement finishing services because the before and after is one of the most satisfying sights in the renovation industry, and homeowners have so many choices in changing their basements.
Hiding pipes and wires is the least of what we do in our basement remodeling. With the wide open space that usually accompanies a basement, we can build new rooms and easily incorporate plumbing as well. Because basements are like the blank canvas of the renovation industry, anything you can imagine within the space can usually be easily incorporated.
To see how basement finishing can improve your Wilmington home, give us a call at 978-447-1195 to schedule your free consultation.
Remodeling Experts
If you are looking for a remodeling contractor in Wilmington, Timbrecon Renovations is always the best choice for the job. Our years of experience in the renovation industry make us experts in everything from basement finishing to building custom decks. With our experience and knowledge, you can rest assured that we can handle anything thrown our way, including unexpected twists and turns in your remodeling project.
In addition to having the know-how when it comes to issues that may arise or difficult projects, our years in the industry can help when it comes to design as well. If you are uncertain whether you want a certain layout or not, we can help you decide based on past experiences, and we have an eye for materials and textures that go well together.
---
Recent Basement Finishing Related Articles
How Can Basement Finishing Improve My House's Value

A lot of houses in northeast Massachusetts have unfinished basements. This means the basement is still in its bare bones, with cement flooring, exposed foundation and plumbing, and bad lighting. These traits, along with the general bad-rap basements receive, can make a basement a scary or […]
Give Your Trusted Wilmington Remodeling Contractor A Call Today!