How Can Basement Finishing Improve My House's Value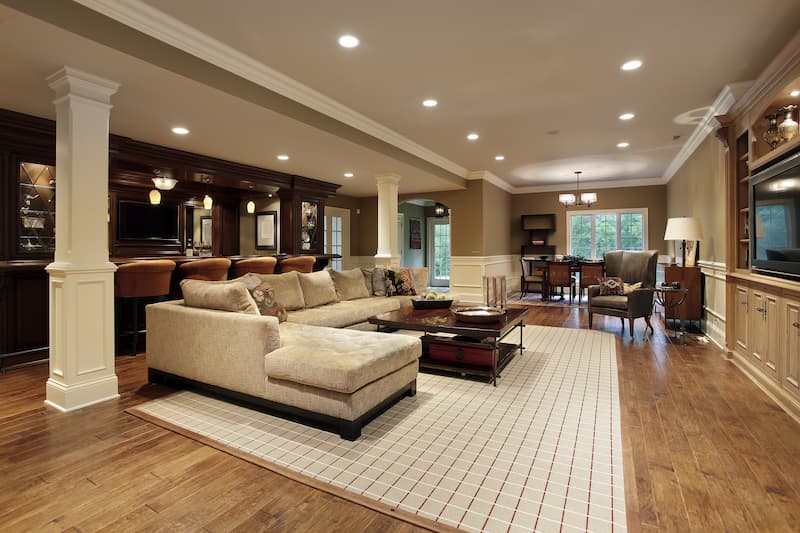 A lot of houses in northeast Massachusetts have unfinished basements. This means the basement is still in its bare bones, with cement flooring, exposed foundation and plumbing, and bad lighting. These traits, along with the general bad-rap basements receive, can make a basement a scary or dreary space within your house. But it certainly doesn't have to be that way.
With basement finishing, you can turn your basement into a pleasant room for anything you can think of. The standard basement finishing usually involves adding flooring, installing drywall, creating a ceiling to hide plumbing and wiring, and adding ample lighting fixtures in order to make your basement feel welcoming and safe. If a client wants to go beyond basic basement finishing, it's usually an easy endeavor because a basement is a sort of like a "blank canvas" for renovators. It's very possible to create guest rooms within the basement, add plumbing for bathrooms or kitchens, or even go more luxurious like creating a bar or small theater.
These are just examples of what basement finishing can achieve. Whatever you decide, basement finishing is guaranteed to increase your house's value and give you more usable and accessible square footage.
How Long Does Basement Finishing Take?
When you are choosing a remodeling contractor for your basement finishing project, you might wonder how long it will take. After all, renovating an area usually means it is less or entirely unusable for the duration of the project.
But this question varies a lot depending on what you decide to do and how big your basement is, to begin with. A general basement finishing that we described above can take anywhere from a couple of weeks to a couple of months, and that time increases when you add to it. Adding a room can take another week, and adding a bathroom could take another two weeks because the plumbing process is often intensive.
In general, plan for your basement finishing to take two weeks for the most simple and smallest job, and several months for a more complex or large job. Regardless of how long it takes, Timbrecon Renovations will make the process smooth and painless.
How Much Can A Finished Basement Increase My House Value?
This is actually quite a simple answer. Most sources cite that a finished basement gives you a 70% return on investment. That means for every $1,000 you put into the renovation, your house value will increase by about $700. To put this in perspective, a major kitchen remodeling usually has an 80% return on investment. This shows that it is a great choice if one wants to increase their home value.
To see what a basement finishing can do for your house, give Timbrecon Renovations a call and schedule a free renovation quote today.
Give Your Trusted Wilmington Remodeling Contractor A Call Today!